This recipe is an exotic blend of paneer and rice enriched with tomatoes, onion, ginger, garlic and very mild spices!!
As always extra spices amd garam masala powder can be added to suit the palate of the individual households!
Paneer is cheese basically made out of curdled milk – it can be made at home or as in this case, it was purchased from the local Indian Super Market!!
Although Paneer is fatty, it is wholesome and nutritious. It is high in calcium and has the goodness of protein, phosphorous, vitamins and minerals.   It is good for healthy bones and tissue growth. 
The beauty of preparing paneer dishes is that it is readily available in wonderful vacuum packs. These paneer packs are processed and packed to preserve the goodness, freshness and most of all the texture that is so important in the preparation of the dishes!!!!!!!
If you are allergic to "dairy" products, Soya Bean Curd  (Tofu) can be substituted and the recipe can be followed as is!!
This one is a family favourite too -!!
Ingredients
1 Cup Basmati Rice
1-  1¼  Cups Water
2-3 Cups of  Small Paneer cubes
1 Ladle of Oil ( to shallow fry the paneer cubes)
1 Medium Size Onion (finely chopped)
2 Medium Sized Tomatoes (finely chopped)
50 grams of Tomato Paste or 1 sachet
1 Tsp Cumin Seeds
2 Green Chillies (slit into half lengthwise)
½ inch piece of Ginger (finely chopped)
3-4 Cloves
2 small pieces of Cinnamon stick (Optional)
1-2 cloves of Garlic
½ Tsp Turmeric Powder
1 Tsp Red Chilli Powder or
1 Tsp of Curry Powder (available in Indian Grocery stores or local supermarkets)
1-2  Tsp. Salt
Few finely chopped fresh coriander leaves for garnishing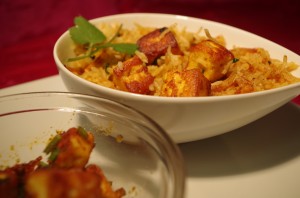 Paneer Pulao or Fried Rice
Preparation
Wash the rice thoroughly in water and add one and quarter cup of water and pressure cook for a couple of whistles
Check for other Methods of Cooking Rice
Heat the oil in the pan and saute the paneer cubes in small lots until light golden brown, drain and set aside
In the remainder of the oil, add the cloves, cinnamon sticks, turmeric powder and the cumin seeds
(A couple of tablespoons of oil may be used if there was not much oil left over from frying the paneer cubes!)
Add the green chilli,ginger and the finely chopped onions and fry it for a few minutes till it softens
Slide through the finely chopped tomatoes, tomato paste and fry for a few minutes
Sprinkle the salt and red chilli powder
Fry it on a low flame for approximately 5 minutes
In a large dish, add the cooked rice little by little folding through the tomato mixture for every layer of cooked rice
Gently stir the entire tomato rice mixture  with a wooden ladle and mix it thoroughly
Fold through the sauted paneer cubes
Garnish it with the finely chopped coriander leaves
Heat the rice just before it is served.  It can be served with any raita or have it with chips as my boys do sometimes!!
Note:  Basmati rice brings out the flavour in the dish.
My preference is to pressure cook the basmati rice as whilst it takes lesser time, the rice grains are separate, cooked well and enhances the look of the dish.
You may also cook the rice directly in a pan – refer to this website for the Methods of Cooking Rice for more ways of cooking rice!!