Chayote, Choko, Chow Chow all refer to the green vegetable, which is also known as a vegetable pear originating from Mexico. In Australia and New Zealand is it easily grown in the back yard as a vine. The vegetable as such does not have any distinctive flavour or taste but when cooked with various spices it is delectable and scrumptious!!
This dish is one of the most exotic, nutritious and wholesome dry curry as it is a combination of lentils and vegetables. To ensure that the curry is light and fluffy, follow the method of breaking the dal as it is outlined in the recipe, which has never failed me in more than 2 decades!!
This dish is one of our family favourite too!!!
Ingredients to serve 6 people
1½ Cups Finely Chopped Chokos
2 Tbs Water (to cook the Chokos)
¾ Cup Toor Dal
¼ Cup Channa Dal or Yellow Split Peas
2 Cups Water (to soak the dals)
1-2 Red Chillies
½ Tsp. Turmeric Powder
1-2 Tsp. Salt
For Seasoning
2 Tbs. Oil
1 Tsp. Mustard Seeds
1 Tsp. Urad dal
¼ Tsp. Asafoetida Powder
Few Sprigs Curry Leaves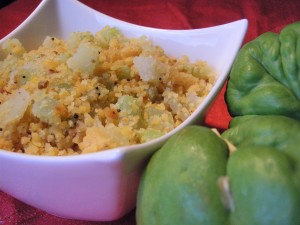 Preparation
Soak the toor dal, channa dal, red chillies in about 2 cups of water for 2-3 hours
Drain the water and grind the above into a soft mixture
Steam the ground mixture in a pressure cooker for 5 minutes (without placing the weight)
When it cools down, scoop a tablespoon of the mixture, add a drop of oil and blend it for a few seconds in the blender.
The mixture turns powdery. Repeat the process for the entire mixture and keep aside.
In the meantime microwave the chopped chokoes with the two tablespoons of water for about 6 minutes on high
Heat the oil in a pan and add the mustard seeds.
When the mustard seeds crackle, add the urad dal, turmeric powder, asafoetida powder and curry leaves
Fry it till the urad dal turns golden brown.
Add the powdered mixture and fry for about 2 minutes.
Gently fold in the cooked vegetable and salt.
Fry it on a low flame for 3 minutes.
Note: There is another method of breaking up the soft mixture in order that it becomes powdery.
Add the soft mixture directly into the heated pan with the seasoning.
Gently stir the mixture on a medium flame till it starts to break up and becomes powdery but this consumes a lot of oil and my preference is to use the method described in this recipe
Tastes delicious as an accompaniment to Mor Kozhambu or like my family,  you can mix it with plain rice too!!
The other vegetables that can be used to make this dish are cabbage, banana flower, beans , green capsicum